Hollis Historical Society Celebrates the 25th Anniversary
of the Ruth Wheeler House
At the opening meeting of the 1978-1979 season, Mrs. Ruth Wheeler offered her house to the historical society as a permanent home for its possessions. On November 16, 1978, the society voted unanimously to accept this very generous offer. In February, 1979 work was started on redecorating and by June the home was open for the society's use. The land on which the Wheeler house is located once held an ice house that had been constructed from lumber in the old Beaver Brook School House located on Proctor Hill Road.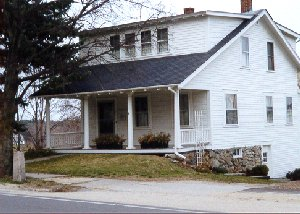 The ice house was affiliated with the large store nearby located in the Price building. Today, the building known as "the block" housing apartments stands where the price building once stood. The present day Wheeler house was built to be a temporary store and in 1914 was purchased by Almond Wheeler and remodeled as a residence.
Ruth Hills Wheeler, daughter of James E. Wheeler and Sarah Shedd Hills, was born on the Hills family farm, Pine Hill Road on April 2, 1889.
She earned her B.A degree from Simmons Collage, Boston and her M.A degree from Boston University. During her career, she was a professor of nutrition at Murray Collage in Illinois and also Rollins Collage in Florida. She became a dietician at Mass. General Hospital, Boston, followed by service at Memorial and St. Joseph Hospitals in Nashua. She was a charter member of the Hollis Historical Society. She founded the Hollis Girl Scouts. She introduced and taught first aid classes to Hollis firemen. During World War II, she opened her home for volunteer work and served as an occupational therapist at Fort Devons Hospital.
We shall be forever indebted to this celebrated lady who gave of herself to the community and who made a gift of her home to the Historical Society.
Our museums host permanent exhibits of Hollis history as well as a variety of changing theme exhibits. Wheeler House is open every Wednesday 2 p.m. to 4 p.m. The Wheeler House is open on the 1st and 3rd Sundays, April to October from 1-4 p.m. and also on days of special Hollis Events.